Best Survival Motorcycle
The zombie apocalypse is inevitable. So, in preparation, you should have a good quality bike stashed away in case of emergencies. Here are the best survival bikes worth taking a look at.
You should also consider a pure dirt bike, and take into consideration a rear seat if there are two of you. Are you looking to travel for a long time then a comfortable ride should also be factored in. Storage capacity and extra space need to be considered for your type of motorcycle.
What Are The Essential Characteristics of a Apocolypse Bike
All-terrain tires and extra luggage capacity are two features that would be important for a bike to survive the zombie apocalypse. A good bike is also lightweight, durable, and easy to maintain. In other words, it should be able to take a lot of wear and tear without getting banged up or breaking down. Other features include additional gas tanks so that you are not checking out where all the gas stations are on route.
When the zombie apocalypse comes, you'll need a good quality car that has been built to survive offroad as well as on road. You could also seriously consider adventure bikes. Motorcycles are great because they're fast, agile, and fuel efficient, and could easily fit into the survival situation.
Plus, they're easier to park than cars, there also easier to hide, and you can get to places with a bike that you will not be able to with a car. We have listed some of the best motorcyles we can think of for a survival situation.
Kawasaki JP8/Diesel – Based on a Kawasaki KLR650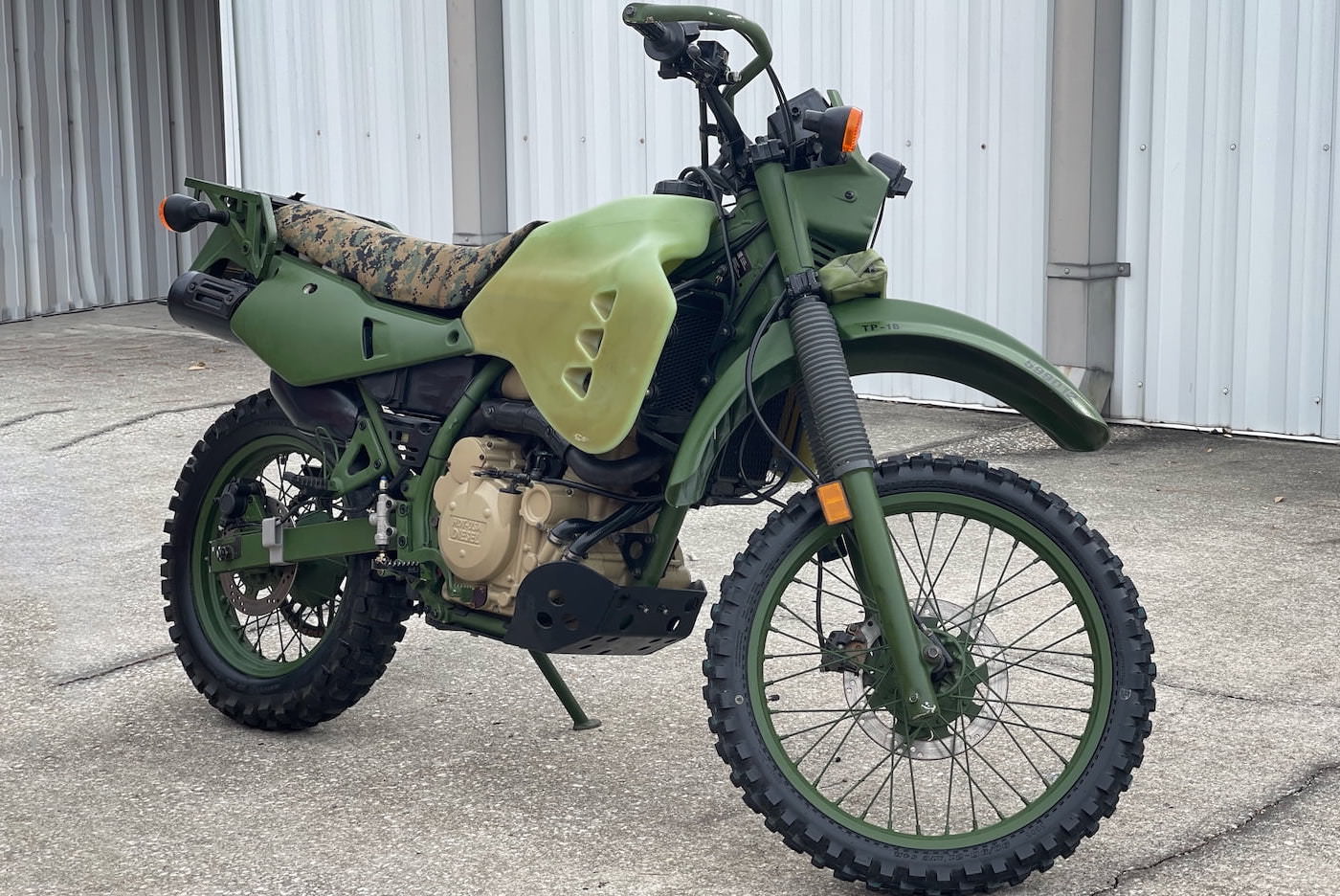 Copyright – Silodrom.com
The JP8/Diesel motorcycle is a great choice for those looking for something reliable and durable. It is a multi-fuel engine, meaning it will run on both diesel and unleaded gas. It also offers around 100 miles per gallon and holds a large tank of gas. That means you can go long distances on a single tank of fuel.
In 2005 the US Army adopted the M1030A2, as an off- road motorcycle based on the Kawaski KLR650 dual- sport bike. It was retro fitted with an engine designed to operate on bio-diesel or JP8 jet fuel, the same fuel all other Army vehicles run on.
This motorcycle is called the HDT USA M1030JP8 because it runs on JP8 fuel. It is a four stroke, single cylinder, liquid cooled, 612cc military dirt bike. It has an engine displacement of 611 cc and produces a peak torque of 36 Nm. It has a top speed of 120 km/h and a range of 96 miles per gallon at 55 mph. It has won 4 AMA national speed records but there is no real competition. Regardless, this motorcycle is cool.
Kawasaki KLR650 as a survival bike
This is a heavy-duty bike that comes with a solid engine and tough tires. It also has a comfortable seat, a tight turning radius, and low ground clearance. For an apocalypse after all, this bike is definitely a decent option. It started life in the 1980s and was adapted by the US Military as above in 1985. It is still going strong today in its latest version.
Motoped Survival Bike
The Motoped Survival Bike is a rugged, versatile agile bike that will carry almost anything you need. It is designed to be a blank canvas for you to customize it however you like. You can add racks, panniers, and other accessories to suit your needs. A larger primary fuel tank plus the extra fuel from two optional side tanks will give you about 250 to 300 miles before stopping and refueling.
That's great if you're riding across dirt roads. This bike is designed for the creative survivalist who wants to escape civilization and survive in the wild. It has all the essentials to stay alive, including a tent, sleeping bag, water filter, first aid kit, fire starter, compass, and knife. You also get a backpack with a rain cover.
The Motoped Survival Bike is like a motorcycle with a bunch of attachments. You can attach all kinds of stuff to it, including a gun rack, a backpack, a tent, a bedroll, a water bladder, a first aid kit, a flashlight, a firestarter, a shovel, a hatchet, a compass, a GPS device, a cell phone charger, a solar panel, a radio, a knife, a rope, a fishing pole, a fishing net, a fishing rod, a fishing line, a fishing hook, a fishing lure, a fishing bobber, a fishing float, a fishing sinker, a fishing weight, a fishing jig, a fishing sinker and a fishing sinker.
BMW R1200GS Adventure
A bike with plenty of power. The BMW R1200GS Adventure model is a bit bigger than the standard R1200 GS, but it offers much more storage space. The BMW Adventure model is considered one of the best motorcycles for on and offroad use due to the improved suspension and more off road features.
While the Adventure model doesn't have the same range as the standard R1200 GS (400+ miles vs 350+ miles), however it still has a very good fuel tank long distance range compaired to most other motorcycles. This is a popular bike for a lot of survivalist motorcycle riders due to its fuel range. However, it carries extra weight, built to last and survive.
Zero FX Stealthfighter Electric Bike
Image copyright – Zeromotorcycles
SERIOUSLY worth considering.. Have you considered the ZERO FX Stealthfighter. This is an electric motorcycle rather than a conventional petrol bike. With a 70 foot-pound of torque, a lightweight frame, and 44 horsepower, this little vehicle of the night is more like a stealth jet than a car.
Because its electric its distance range is far less than ideal (70 miles max) and that could cause problems, especially in light of finding places to recharge, unless of course you have your own charging kit with you.
Now that would be something worth looking into. Imagine if you were in charge of finding your own fuel and had your own solar panel and was capable of doing the charge anywhere where you needed too. This would mean no real fuel costs and a substantial saving overall.
Sommer 462 Diesel
Diesel vehicles are a great choice for those looking for a reliable, affordable, and environmentally friendly option. There are many different types of diesels available, including motorcycles, cars, trucks, and even boats. German brands like Sommer, BMW, and Mercedes make some of the best models. These bikes deliver solid torque, great fuel economy and are built to last.
KTM 990 Adventure Baja Edition
If you're looking for a vehicle that can handle any terrain, the KTM 990 might be just what you need. It comes with a large fuel tank and a stowable cargo area, making it ideal for long trips. It also features upgraded suspension and brakes, giving it the ability to tackle rough terrain. Plus it has its own electric socket.
Tarus Electric Scooter
Tarus is an electric scooter that can go anywhere. This could be an ideal bug out vehicle. It's small enough to fit in your garage and folds up easily. It's lightweight, making it easy to carry around. And it's fast. It can reach speeds of up to 25 mph and climb steep inclines. It's perfect for short trips around town, or even long trips to the beach.
Jawa 250cc (1960s) or 350cc
In the late 1960s, the last Whole Earth Catalog tried to figure out the best survival bike. After checking out many options, they recommended just two: a BMW and this classic Jawa. The Jawa was designed to be so simple to fix that you wouldn't need expensive, specialized tools. It is also a smaller engine. The perfect easy ride for when times were tough. While times have certainly changed and there are more capable bikes that can travel farther, it's still a solid option.
Christini AWD 450 Military Edition
Christini is a company that specializes in making high quality survival knives. Their products are designed to be used in extreme conditions, and they offer a lifetime warranty on all of their products. You can customize your knife with a variety of different accessories, including a sheath, belt clip, and even a flashlight.
Bug-Out Bike Gear List for Survivalists (22 Items to Consider)
We all know that it would be nice to build a bug-out vehicle. The only decision you need to make is which vehicle you will use and your ideas for getting away from it all.
The Japanese manufacturers have built some rugged terrain vehicles that are a good idea for good reasons and great options for cheap spare parts and excellent gas mileage compared to the standard car used in the USA.
1. Bike
2. Tire pump
3. Spare tire and tube
4. Chain tool
5. Second chain tool
6. Lube
7. All-weather work gloves
8. Folding bike stand
9. Spare brake pads
10. Spare pedal/crank arm
11. Panniers (large – 20-40 liters)
12. Panniers (small – 10-20 liters)
13. Seat bag (15 liters)
14. Repair kit for bike frame or parts
15. Multi-tool with chain breaker and sprocket wrench
16. Front/rear light set.
17. Survival shovels.
18. Tool bags.
19. Full face helmet.
20. Hand guards.
21. Spare suspension components.
22. Small tool kit.
Things to Look for When Buying or Building Your Bug Out Bike
When it comes to choosing the best bike for your bug-out bag, you have many things to consider. Before buying a bike, make sure you know what size bike will be most suitable for you. Certain bikes may be better suited for certain reasons in terms of components and parts.
For example, an expensive carbon fiber frame would be perfect for your needs if you want a high-quality brake system. On the other hand, if you're looking for a cheap option that is easy to maintain and repair, a steel frame may be more up your alley.
A road bike or street bike is probably the best option to quickly get around and away from a dangerous situation and should be considered.
Multi-Fuel Capacity motorbike
A multi-fuel capacity motorbike is a bike that can run on multiple fuels. For example, it can run on gasoline, propane, or diesel or in the current climate, electric.
This allows you to keep your bug-out bag stocked with fuel for more than one situation. When the apocalypse strikes and you're trying to get out of the city, you don't want to leave half of your bike's fuel with no way of getting back home.
It also comes equipped with a windscreen and panniers for carrying additional supplies. A multi-fuel capacity motorbike is perfect as it gives you flexibility when scavenging for fuel or taking a trip into unfamiliar territory.
Questions
What would be the best get for an emergency first aid survival kit
If you plan a bug-out bag for the zombie apocalypse, you should include a first aid kit. A first aid kit is necessary for accidents and injuries that come with the territory of this apocalyptic event. Regarding what kind of first aid kit to include in your bug-out bag, you can't go wrong with this one from Adventure Medical Kits.
It's compact, lightweight, durable, and has everything you need to treat a variety of injuries. The whole kit weighs just over two pounds and is compact enough to fit into a small backpack or carrying case.
What about a Car?
That would be another episode as a car is a completely different ball game to a bike. With so many choices, it is hard to say whether you should go for a bike for a fast and smaller pack or a car that will give you many more options. You then need to look at all the different drive trains available. Spare parts also need to be considered.